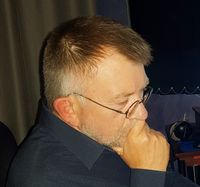 When I first heard Leon Russell play the piano on Joe Cocker's Mad Dogs & Englishmen album, I knew I was breaking up with Beethoven, for a while at least. At the same time, the sounds of Eric Clapton, Jeff Beck and Jimmy Page were luring this impressionable young teenager away from the piano in favour of the guitar. While piano lessons were a more formal process, the guitar was a very private instrument and a comforting companion. For years I was unsure about which instrument to pursue more seriously, deciding eventually on the piano and the emerging world of music synthesis.
Abandoning a sensible career in medical science in my early twenties, and with the help of some amazing mentors, I was able to build a new career as a multi-instrumental studio musician, orchestrator and jingle writer in Adelaide, Australia. It's a small city, but one that punches well above its weight artistically. During those early years, I'd booked a string quartet and a small "unplugged" acoustic band for a children's charity TV special I was writing for. The intimacy and emotive power of that ensemble stayed with me, and chamber music has remained a great love.
Several years later, having moved to Sydney for a national TV music project, I started to formulate the concept for a nine piece classical fusion band featuring a string trio. After a couple of years of writing between paid jobs, the Electric Chamber Orchestra was formed. It gave me the opportunity and great fortune to work with some of Sydney's finest musicians across classical, jazz and rock genres. Dave Richards and John Frolich from Glebe Studios, and then Warner Brothers, took a gamble on the project and we released our first and only album Morning (opus one). The experience was both exhilarating and heartbreaking. While we achieved some radio success with TV promotion and a couple of enthusiastically received live shows, the reality of a niche instrumental project in a small market was inescapable. As it unfolded, the record company was unable to secure international support for the project with a global economic recession looming, and I concluded that making my young family "suffer for my art" was not something I could be at peace with.
After subsequently relocating to Melbourne for another TV music project, and then a long sabbatical of two decades in software development and technology management with years of academic study involved, I've now arrived at a different place. Writing and producing my own music as Robert Cook Sier (it's the closest I have to a real name with a traceable bloodline), this is a renaissance time for me. Over the coming years, with a lot of hard work, I hope to continue my growth as a musician and composer and produce a worthwhile catalogue of my music. In time, and with some investment, it may even be possible to put this on stage, but that's for the future. For now, please feel free to get in touch through my Contact page, and you'll find my music and videos here on this site or at Amazon, Apple Music, Spotify, YouTube and all other major digital outlets.
I truly appreciate your support and I hope my music resonates with you.
Robert Cook Sier
"Composer Robert Cook Sier has a cinematic eye and a poet's ear. On his latest single 'Keep Walking', Sier blends sweeping orchestral atmospherics with lush, pensive keyboards, carefully weaving a patchwork of electronic, jazz, and chamber pop influences." - Jazz Corner
"Robert Cook Sier is a gifted, visionary multi-instrumentalist and composer from Australia whose music stretches through various styles, from chamber pop to New Age to jazz and electronica. His cinematic latest single, 'Keep Walking', is stunningly beautiful, like the soundtrack of an autumn rainfall." - Stacey Zering, No Depression